---
Practice the Daily Habit of Creative Spontaneity for 100 Days
It takes about 3 months to deeply ingrain new positive emotional and psychological habits. Imagine having an in-depth set of 100 art and journaling processes arriving in your email each day so that you can cleanse your emotional pain and access your higher potentials.
Envision being able to access creative, indexed methods of spontaneous and creative self-healing  - whenever you need them - for years to come.
 

If you're a creative person, and are tired of feeling emotionally overwhelmed, spiritually heavy or mentally blocked, you can now purchase 100 Days of Art and Writing Journal Therapy Prompts for less than the fee of one Art Psychotherapy Therapy Session HERE!
---
Art Journal Therapy Activity # 4 - Draw and Collage Your Inner Critic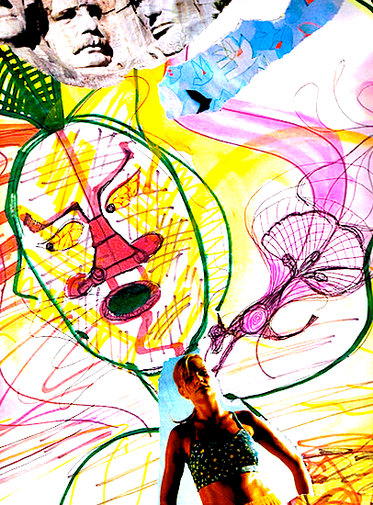 This art journal exercise will support you to examine how your inner ways of hurting yourself correlates with the unreasonable fear of outer criticism.
Materials:
- Art journal

- Felt markers and pencil crayons
- Magazines to cut up, glue stick, scissors
Method:
The Fear of "Not Good Enough"
We criticize ourselves in ways that we fear others will criticize us, and most often we are defending ourselves unnecessarily.
When we limit our thinking to repetitive self-critical thoughts, our thinking will stay immature and fearful, we leave no room for the growth of love, creativity, and inspiration. And, while we may need to defend ourselves from harsh outer criticism once in a while, when we keep ourselves in a vigilant self-critical state, we harm ourselves with unnecessary stress. When we learn how to soften our defense system, and stop protecting when there is no need to do so, we can relax and heal our inner critic.
Part of eliminating unnecessary inner criticism is examining whether the outer danger you fear is true. Most of what our inner critic is trying to protect us from is hurt, rejection, frustration, and outer criticism. Since we are only in emotional "danger" and not in mortal danger, we can consider the possibility of withstanding any outer attack with inner peace, self-love, and strength of character. It is helpful to imagine your worst fear of being criticized by others and envision yourself handling the situation from your mature, adult strength, using all of the accumulated resources and life experience that you did not have as a child.
Collage and Draw what you Fear
1. Try not to censor or think it out too much before you start. Collage or draw what your inner critic says to you in a quick and spontaneous way.  As you create your collage/drawing in your art journal, invite the critical part of yourself to come forward and explain how it thinks you are not good enough. 
2. Be prepared for your critical voice to be quite mean as you bring what is inside into your outer picture to be seen, recognized and healed. Write these critical statements down on the opposite page of your art journal to visually see how this critical voice that runs under your life.
3. Sit for five minutes and meditate on your drawing, collage and writing. Consider what your inner critic has just told you. How does your inner criticism reflect your fear of similar outer criticism? Where would this outer criticism come from?
Separating From Your Critic's Voice
Psychologists Hal and Sidra Stone point out that the inner critic makes absolute pronouncements as though it has the truth of heaven behind it. It is for this reason that it is initially difficult to separate from the critic's voice. We think our inner critic is all encompassing and real. From the part of ourself that holds all of our pain and hurt, we can think that our inner critic's voice is the voice of absolute truth. Our inner critic can feel like God. societal standards, or our parents condemning us.
Our predominantly ego-based society is based on perfectionism, on having the right things, and on looking good. Underneath the critic's voice is a fear of feeling shame and of feeling not good enough. To give ourselves the permission to be human and to know we are doing our best given our current emotional circumstances and life situation will our inner critic to relax.
How to Start an Inner Critic Journal

It is helpful to keep a dedicated journal to record your inner critic's voices and fears. As you become more conscious of your inner critic - you can start to listen to what it is saying with a more balanced ear. Our inner critic is not all bad. It is trying to protect us from some kind of shame and embarrassment about not reaching a higher standard.

---