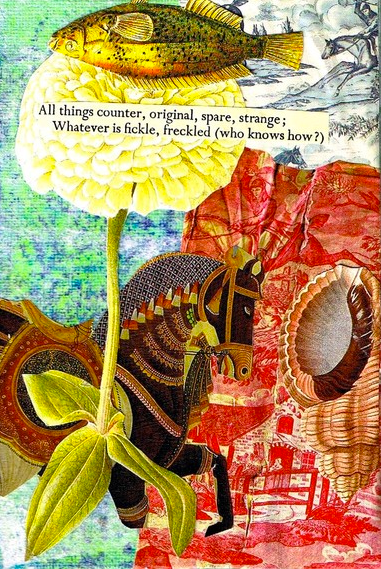 This art journal directive will support you to explore your creative imagination by seeing and playing with imagery and words in fresh ways.
Materials:
- Vintage thrift store books and discarded library books
- Scissors
- Glue Stick
Method:
Choosing Your Imagery
Unusual imagery can spark poetic collages. Imagery and words from books are often much richer than what can be found in magazines.
Buying image rich books for collage making is worth the small investment. I often buy old art and nature books from libraries and thrift shops. I also search new book stores for bargain picture books to cut up.
Five Steps to Choosing Your Poetry and Imagery
1. Put together a quick spontaneous collage using imagery that intrigues you. Explore free form juxtapositions that make no logical sense to spark your poetry....

---