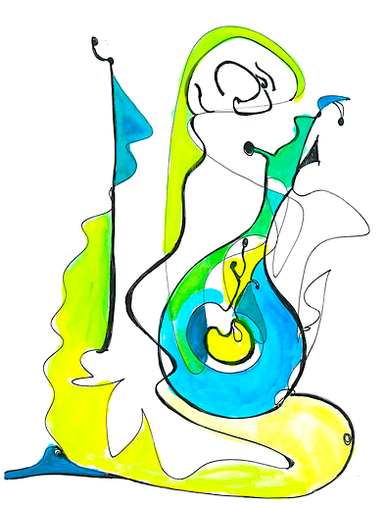 This art journal prompt will support you to loosen up and draw spontaneously. It will also help you to see your unconscious thought processes in your scribbles.
Materials:
- Black or multicolored markers 
- Watercolor paint
- Journal page
Method:
Spontaneous Art as a Route to the Unconscious Mind
Scribble drawing is a tried and true art therapy exercise that works well as a visual starter or warm up for spontaneous drawing or painting. Scribble drawing was developed by art educator Florence Cane.
Her sister, art therapist Margaret Naumburg started a progressive school for children in 1914 that encouraged spontaneous creative expression and self-motivated learning. Naumburg was a visionary in children's education in her time. She was influenced by Jungian psychology, parapsychology, and surrealistic and primitive art.
In 1930 Naumburg left progressive education and began to devote her life to the development of art therapy. Having undergone Jungian therapy herself, she felt that art therapy was a more effective route to the unconscious than verbal therapy. Her sister Florence Cane, a teacher at her school, was a pioneer in facilitating art for children that emphasized the expression of feelings, and she searched for ways to stimulate the creative process. One creative method she developed was the scribble drawing...

---