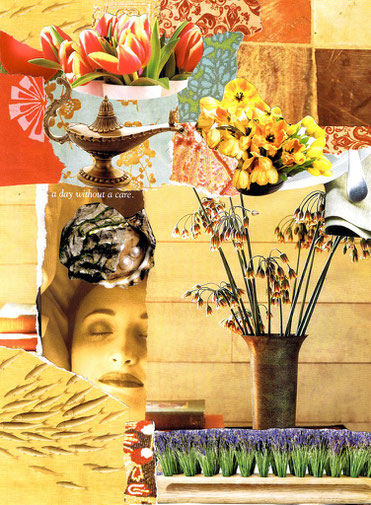 This art journal directive provides soothing tools to calm, regulate and slow down the overwhelm of painful emotions. 
Materials:
- Art Journal
- Magazines, glue stick, scissors
- Calming music
Method:
Pacing Your Healing
We must again and again face fear until we can do so without being thrown back into lower self functioning."  - Richard Moss
Why Process Emotional Pain?
Some trauma therapists believe that if you are feeling overwhelmed, you are going too fast with emotional processing. Yet, spiritual teacher Richard Moss writes, "We are rightfully afraid of pain, but when pain - especially emotional pain - is what is, then to continue to rely on a self-avoidance survival structure created in childhood is to remain barren of potential." 
Paradoxically we become more alive when we turn and face our emotional pain,. We can develop a conscious relationship to our own suffering. By compassionately respecting our internal timing and pace, and by taking breaks when the emotional pain and intensity feels overwhelming, we can face what we habitually avoid. With great love and gentleness, we open up to our authentic potential...

---