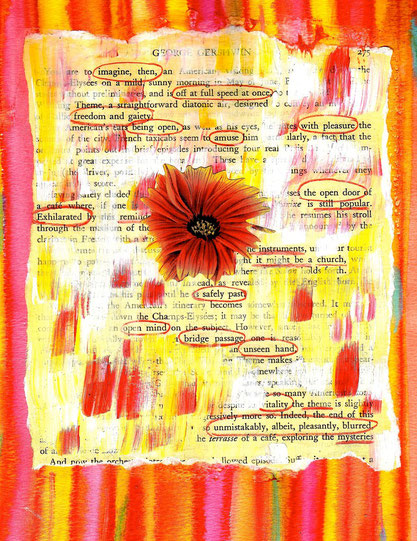 This poetry journal directive offers an easy spontaneous way to tap into your unconscious mind to discover what you are feeling.
Materials:
- Printed material such as newspapers, novels, old books, magazines, recipe books, fortunes, horoscopes, textbooks or dictionaries.
- Black and colored markers, pencil crayons, collage items, watercolor or acrylic paint.
Method:
Exploring Paradox
"Poetic language expresses what plain language cannot, and thus helps us heal in a very unique way."
- Jon Fox
If you find it challenging to surrender to the spontaneous creative process, found poetry is good way to warm up your willingness to create from intuitive awareness. Found poetry taps into the words that feel the strongest to our unconscious mind. Found poetry can reveal hidden emotionality, visionary possibilities, or unknown beliefs in a mysterious and intriguing way...

---