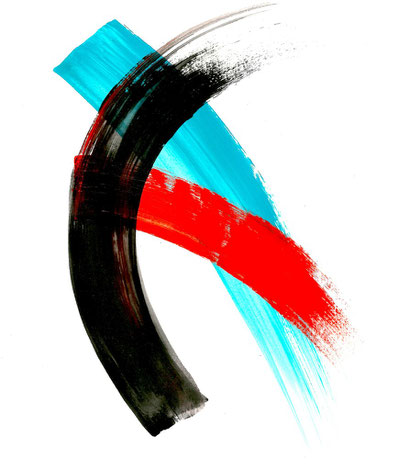 This expressive art prompt supports the practice of deeply concentrated engagement in the creative process as way to profound peace and integration.
Materials:
- A wide soft brush - or three brushes - one for each color
- Three different colors of fluid acrylic paint
- 20 or more sheets of 8x10 or 11x14 cardstock or heavy paper
Method:
The Way of the Brush
Zen painting is a very simple spontaneous painting exercise, yet it takes great unselfconscious concentration to execute. It loosely involves the spiritual practice of painting one, two or three uninhibited brushstrokes - to express a moment when the mind is set free to allow the body create. 
In this exercise, I invite you to progressively practice letting go of your normal self-conscious ways of being in the world by engaging in painting 20 or more loose, swift, minimalist paintings in one session. Practice until your mind goes completely still...

---