Doodling your Feelings
Intuitive drawings can begin as simple doodle that will become more eloquent as you practice. You can use ballpoint pens, markers, gel pens or pastels. Draw for the surprise and joy of the process, without knowing in advance how each drawing will turn out.
The Intuitive Drawing Challenge
I challenge you to complete 30 days of intuitive drawing. Put your pen to paper, and create one intuitive drawing a day for 30 days. If you get insights as you draw, write your notes alongside your drawings. Your intuitive drawings will look different than mine. Allow your own innate intuitive style to emerge.
The Challenge
1. Number your sketchbook pages from 1-30.
2. Each day, for 30 days create a spontaneous drawing.
3. Make notes of any insights that arise.
4. When you are finished, you are welcome but not required to write to me (at shelley@expressiveartworkshops.com) with a few photos and a description of your process. You are invited to share your process (anonymously if preferred) on my website as an inspiration for others.
At the end of 30 days you will have moved closer to the essence of your own original expression. Tag me @shelleyklammer on Instagram and I will follow along! #30dayintuitiveartchallenge
Enjoy!
Shelley
---

I found that I resist goodness and love and that I tend to protect myself in order to not get hurt. I also found that I could not feel a drawing was complete without some black in it so I must have some energy that is still processing. I also found that the more I worked with the process the more willing I was to let a drawing be ugly and incomplete, at least in my assessment of it, unlike how I live my outward life where everything needs to be pretty and in a box with a bow on it. This has been very helpful to make these observations in this way.   ~ C.R.
---
"I was excited when you offered the Art Challenges a few months ago.  I had a lot of fun participating and learned a lot about myself, my priorities, and it was good practice just going from intuition rather than from an aesthetically focused place.  I'm going to keep going!
My process was the same every night.  My husband would be putting our daughter to bed and I would settle in and just draw what came to my mind.  Sometimes it was instant other times it took a while.  My pen case says "Kindness Matters" so often this guided my practice, whether it was kindness focused inward or out.
I've been practicing meditation for almost a year and a half now so, the combination of mindfulness I've learned plus this practice were really fun and centering for me."
~ Anna S.
---
"I have been making art, specifically taking classes, especially for faces, for three years now...and so faces are my usual go-to when drawing.  What I have learned is...although I love to create faces, I love more primitive work.  
I get much more satisfaction some days from simply moving colors around.  I have also learned that once the paint is dry, coming back to my pieces and journalling with them, or about them, brings me some incredible insights--and that part was the part that I have been missing and longing for for so long."
~ Tabitha Beck ~ http://thisismysideofthemirror.com/
---
This drawing journey was not easy to start…It is a while since I stopped drawing/painting and each time I try to get back I feel 'frozen'. I have never tried intuitive drawing before but after reading your personal story I though I ought to give it a try. For this challenge I used only markers (which I haven't used before for drawing) and/or a B2 pencil.  Nevertheless, after about 3 days I was looking forward for my daily drawing. I enjoyed the process. Thank you so much!   ~ K.L. Scotland
---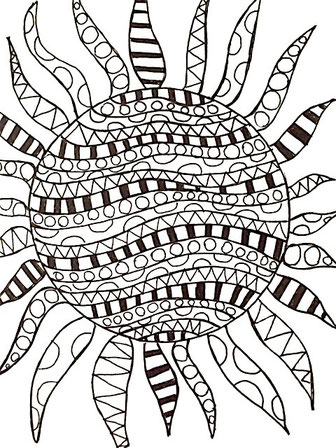 This challenge started out as something I had to make myself do and was pretty anxious things would turn out ugly.
I found myself slowly starting to make things for me as opposed to my invisible audience and I started really enjoying it.
I found that I actually started enjoying it. Thank you so much for this challenge. 
~ Christine
---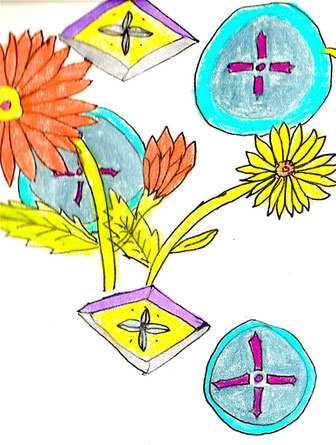 Drawing intuitively for 30 days started out challenging.  
I had to schedule "play" time into my calendar to give myself the time to just draw! It turned into a complete treat!
I couldn't get myself to stop drawing because I was enjoying myself so much!
~ Veronica Violet
---
This activity encouraged my intuition to emerge and play its role gradually. I enjoyed doing these and I enjoyed using felt pens. The drawings acted like a mirror of my subconscious. I ended up grateful for whatever I put the on paper and I honoured each drawing by coloring it.  
~ Lamees Kamaleldin, Cairo, Egypt.
---
In this 30 days journey, I did the mixture of Intuitive Drawing and Mandalas activities.
At the beginning, it a little difficult to begin the work. The mind keep asking "what to draw?", "what if the drawing turns out ugly" and so forth.  As drawing progress daily, the drawing begin to flow more naturally without lots of "hard-thinking".  Drawing is like part of the routine for me every day.
Intuitive Drawing allows me to see more of myself and allows me to express my inner feeling. Mandalas has the effect of calming and making my mind more focus.   ~ C.N
---
"I have in the later years found that expressing myself through art is helping me heal and understand a lot about myself, though I am an art teacher i have only recently embarked on the journey of using art to heal myself"
Luna Yemaja, Denmark
---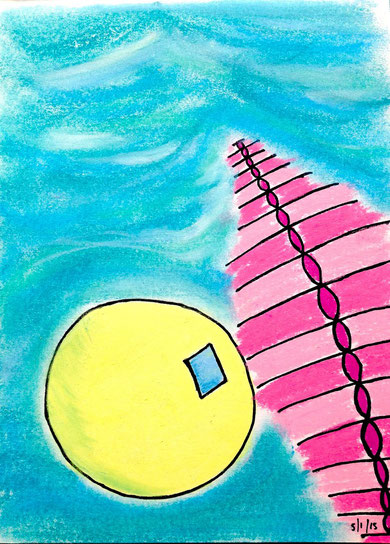 I have really enjoyed doing the 30 day challenge, it allowed me the time to be creative or to just sit with whatever was there for me and to allow that to be expressed. It's a great way to connect with your inner world and also for me to start to discover my creative style.
Amanda, Umina Beach, Australia
---
"I used to doodle within rambled shapes and then do patterns in pen.  When this started, I had just gotten a gift of colored markers, so I committed to start there.   My squiggle created the frame for the colors and patterns.  I found myself drawn to a rainbow of colors, playing with patterns, combinations.  As the time went on, some patterns repeated or developed.
New ones surprisingly emerged.  Then I started to play with connecting separated shapes. Eventually the shapes were no longer connected but patterns kept them linked somehow.  It was a great way to show up without a plan.  Whatever plans I started with morphed into simply following the next idea, letting instinct call the next placement of whatever color scheme I was following.  
It took longer than I expected, but as the thirty days wound to an end, I found myself dreading the loss of color and spontaneity.  It was a great experiment in trusting what showed up, letting things happen and working with what is (including pens wearing out). Hanging pictures up as I went gave me a sense of joy throughout the days.  At some point I plan to use the pictures  as writing prompts to see what emerges."
- Anne Martineau - Ohio, USA
---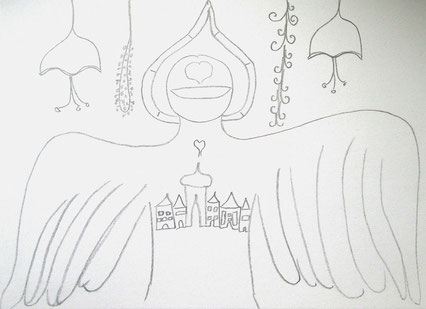 "Drawing was the scariest creative activity to me because it is so directly personal. With this challenge i discovered that i actually enjoy the process of intuitive drawing. The drawings tell me how i am feeling, looking back at them is like looking at a diary. By continuing intuitive expression, i am sure i will invite more spontaneity in my life."
~ Manon Landsmeer, Amsterdam
---