---
Quick Facts: Art making processes include intuitive drawing and painting, spontaneous collage, zen doodling for self-exploration, altered book making, found poetry, word play, exploratory writing exercises and so much more. 
This course is an in-depth exploratory adventure for artists wanting to experience self-led expressive art and narrative therapy and includes an optional private Facebook support group.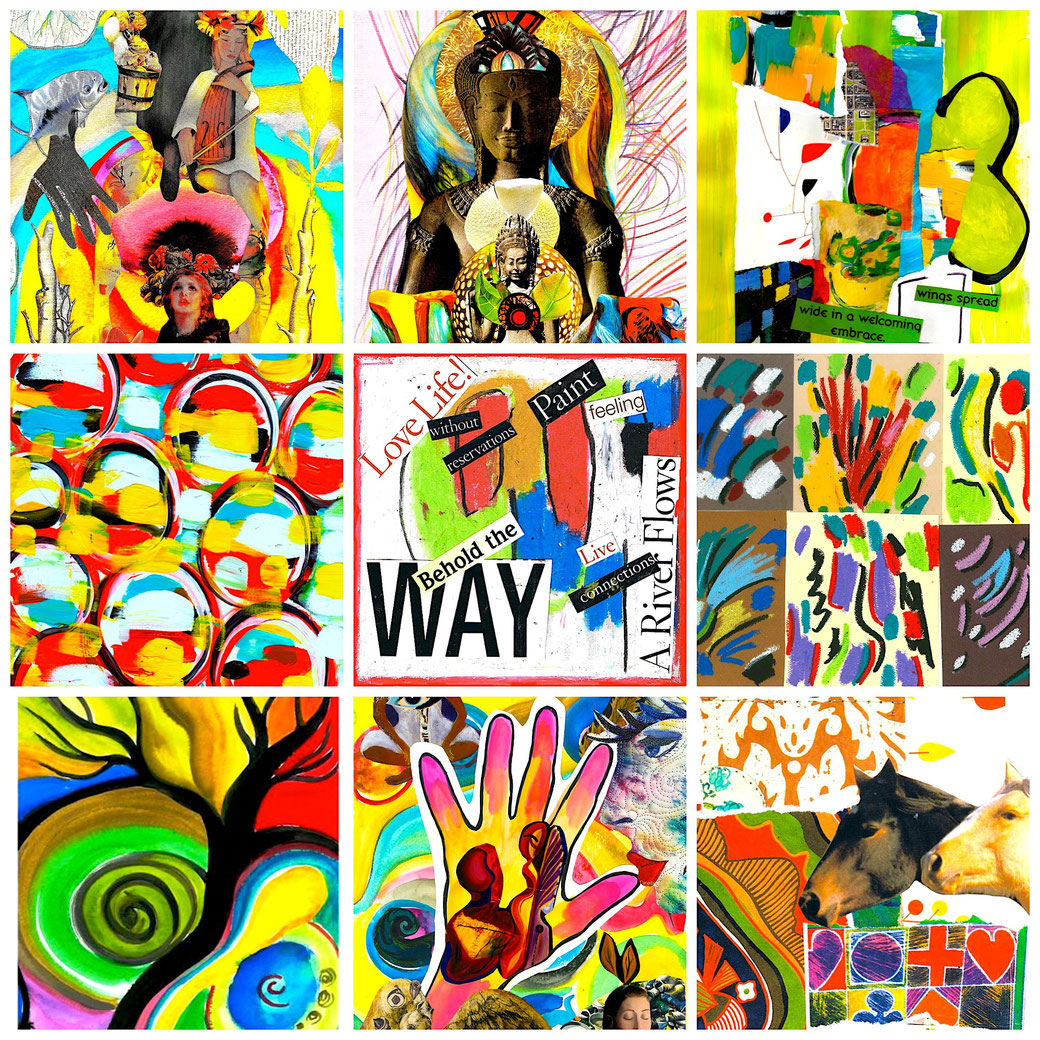 Understanding Why You are Hurting
"I am blown away by the course so far. After only 4 days, I already feel like I have grown leaps and bounds. Not only am I learning about myself, but I am also learning new therapeutic techniques that are expanding my mind and soul...
The first day, I thought: "A letter to my pain? Ugg, I don't want to do that..." But I decided that my strong negative feelings meant that I should at least try it. The resulting letter was so beautiful, it was as if someone else wrote it.
But the most amazing thing was that many of the aches and pains I was carrying around disappeared after I took the time to lovingly notice them and ask them what they needed to feel comforted."   ~ M.B.
You are the Change
Because popular psychology often works only to heal the conscious cognitive mind, it does not always address the deeper issues of disconnection from our authentic nature. The simple fact is: we are both human and spiritual.
In this split, we suffer psychologically and emotionally. Yet, we all can find access to the unconscious wellspring of symbolic imagery that will show us how we uniquely need to heal, and how to live towards our highest potentials.
---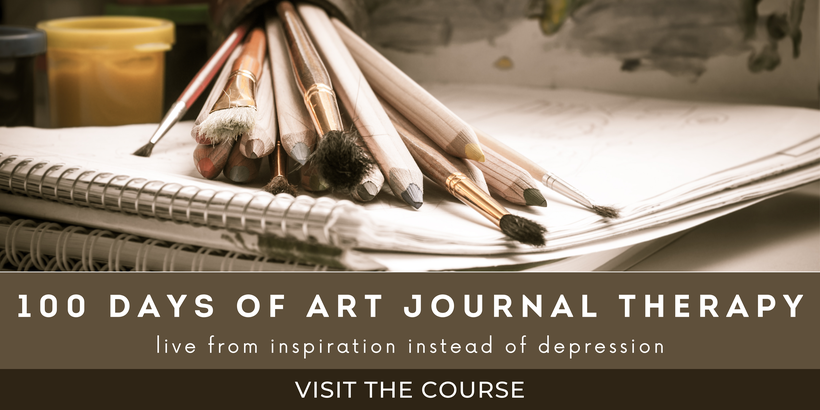 ---

Is it possible to live your life with inspiration instead of emotional pain? This in-depth daily e-course will support you to heal emotionally through spontaneous imagery paired with in-depth writing prompts.
Traditional therapy can fail to address our deepest dilemmas when it does not access our visionary potentials. To heal the deepest roots of emotional pain we need to gain access to the encouraging imagery that arises from our creative unconscious mind.
Our connection to our authenticity comes through our innate spontaneity. And, your spontaneous strength can be practiced through the daily art and writing prompts in this comprehensive e-course.  
Healing the Deep Roots of Emotional Pain
"I'm loving this course. I see it as a facilitated journey into one's self to help navigate unfamiliar territory.  I've been in face-to-face therapy with a clinical psychologist for 3 years and believe that a weeks worth of this self-guided art journal therapy is worth more than 3 months of face-to-face.  The beauty of this is that is truly between you and yourself.  It teaches skills, it provokes thinking, it activates intuition, facilitates mind exploration and is free of external influence/judgment."   ~ J.K.
If you are new to my work, I can share with you that I have maintained a daily spontaneous creative practice for over 20 years - that has been dedicated to my emotional healing. I am a professional artist, turned expressive artist/facilitator, turned counselling therapist who has struggled with my own fair share of emotional pain.
Through my own daily spontaneous creative practices, I was able to work through much inner density and emotional "stuckness" to find my visionary capacities. 
---
This E-Course is For: 
1. Art journalers who want to take their creative practice into realms of deeper psychological and intuitive understanding.
2. Creative and spiritually sensitive people who fight depression and struggle with daily or cyclical emotional pain.
3. Practical people who feel stuck in the same boring, uninspired ways of doing things, and long to develop spontaneity in order to gain higher insight.
4. Anyone who wants to explore an in-depth creative path to personal development and emotional healing.
"I find your work to be a veritable gold mine for both personal and professional development!"
- Melissa Layer - Therapist
---
1. A Sketchbook: 8x10 or larger for creating and writing in. You might want to do your art on the right side, and your writing reflections on the left side.
2. Or: Heavy Card Stock Paper : As an alternative to a sketchbook, you might want to create your expressive art on 8-1/2 x 11 inch card stock and write your thoughts on the back.
2. Collage Materials: Magazines to cut up, a pair of scissors and a glue stick. National Geographic magazines often work well for emotional processing.
3. Oil Pastels: Student grade are fine for the expressive art projects.
4. Coloured Markers: Kid's markers work fine, such as Crayola. 
5. Watercolour Paints: and a brush.
6. Watercolour Pastels: Optional - can use watercolour paints instead.
7. Acrylic or Tempura Paints: 3-6 colours.
8. Wax Crayons: Optional. Can use oil pastels instead.
9. Black Pens: of varying thicknesses for drawing such as Sharpies and ballpoint pens.
---
This 100 day art journaling program is for you...
- If you are deeply drawn to all things creative and would love to use creative practices to emotionally heal yourself but you have not found deep enough tools to access emotional release and higher inspiration.
- If you regularly feel anxiety or an emotional heaviness that you cannot logically understand.
- If you would love to feel creatively free but something holds you back from expressing yourself honestly in the world.
- If you know you have self-limiting beliefs that plague you, yet years of saying affirmations have been powerless to shift them.
- If you work hard to stay positive but you are surrounded with repetitive negative experiences, and you do not fully understand how you are participating in these patterns.
- If you are struggling with abundance and money issues because so much of your life energy is spent trying to manage your emotional pain.
- You have a spiritual, creative or professional side that you show to the world but in your private life you are struggling with difficult emotions that you cannot seem to heal.
- If you are willing to take daily action to improve your life - you just want to figure out what the right action is. You wish there was someone who could mentor and explain the creative healing process to you so that can do your emotional healing work with joy, structure, discipline, and direction. 
- If you want to feel emotionally, psychologically, and physically free of pain and limitation. You want to explore spontaneous creativity, and all of the surprising new healing directions that it brings.